The Image Creator is a way of highlighting key findings, quotes and statistics. You can create images that can then be shared on social media or incorporated into your reports to add an element of visual interest.
To get started, go to the Project Overview page. From the row of tabs along the top, click "Image Creator".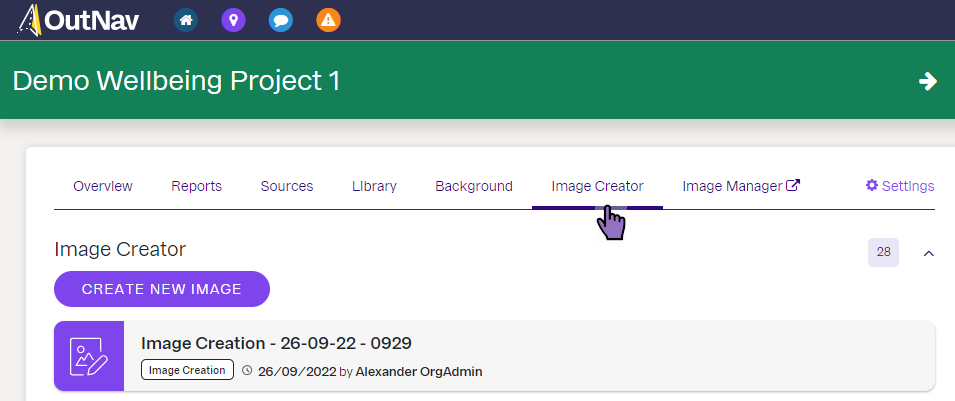 Any images you have already created will be listed here and can be edited or deleted using the buttons that appear when you hover over them.
To get started with a blank image, click the "Create new image" button. This will take you to the Image Creator interface.
You can rename your image by clicking its title at the top. Below that, you can see your blank image, which is made up of nine smaller images in a three-by-three grid. We call these smaller images "cards".
Creating cards
In most cases, it will make sense to start in the top left corner, but you can start from any card. Just click the "Create image" button on one of the cards, and the Card Options will appear.
The palette on the left lets you choose a background colour for this card.
The panel on the right has three tabs - Visual Style, Content and Images. (Images will be greyed out unless you select a layout that includes space for an image.)
The first step is to choose a layout from the Visual Style tab. Click on one of the options in the list to see what it looks like. When you find one that you like, you can click on the text to edit it. Text can also be scaled up and down using the font size pop-up that appears above it when it is selected.
The Visual Style tab also has buttons that let you toggle your organisation's logo, which appears at the bottom left of the card, and the card number, which appears in the top left.
The Content tab lets you see all the analysis you have entered into your outcome map. This allows you to quickly reference your findings when writing the text for your image, or directly copy and paste sections of text using standard shortcuts as explained below.
To copy, highlight a piece of text and press Control + C on Windows or Command + C on Mac. To paste, click on the place where you want the text to end up and press Control + V on Windows or Command + V on Mac. In most cases you can also use the right mouse button to bring up a menu of commands including copy and paste. Using these methods, you can also copy and paste from sources external to OutNav, such as Word documents or web pages, if you want to bring outside text into your images.
The search bar at the top lets you search for specific words in your analysis so you can easily find what you're looking for.
The Images tab shows a list of all the images in your project. If the layout type you have selected allows for images, you can select one here and it will appear on your card. You may need to adjust the image's size or position by clicking on it and using the buttons that appear above it. You can also upload a new image straight from the Images tab by clicking the empty outline at the top.
When you are happy with how your card looks, click the "Save edits" button below the card. Click "Exit image" to close the current card. You can create up to eight more cards in your current image using the same method. Make sure to click "Save work" at the bottom of the page once you are finished.
Saving or exporting your images
Once you have saved a card, you can export it as a standalone PNG image file by selecting it and clicking the "Export image" button. This allows you to download it or save it to the Image Manager of your project.
You also have the option to "Export image as a set", which will export all the images in this set as a single PNG file.
Once saved, any image created with the Image Creator can be found and edited by returning to the Project Overview and going to the Image Creator tab.
Need some extra help?
Why not pop into one of our drop-in help sessions, running twice weekly on Tuesdays and Thursdays? A member of the Matter of Focus team will be on hand to answer questions and help with your evaluation in any way they can.
We also run regular community meetings where you can share with and learn from other members of the OutNav community.
Free access to all of these sessions is included with your OutNav subscription. More information and links can be found on your Organisation Home page.