As part of your OutNav subscription, you have access to various events and sources of support along with other members of the OutNav Community.
Our twice weekly drop-in help sessions give you a chance to chat with members of our team about any issues you might be having with your project. These can range from technical queries about how to use OutNav to more conceptual questions around how best to separate your outcome map into pathways, or the best way to analyse a certain piece of data.
You might also meet other members of the OutNav Community at these drop-ins. We find people get a lot out of sharing their ways of working through the process.
Several times a year we also run OutNav Community meetings, where community members can share their work and learning with each other. You can find out about any upcoming meetings by logging into OutNav and going to your organisation home page.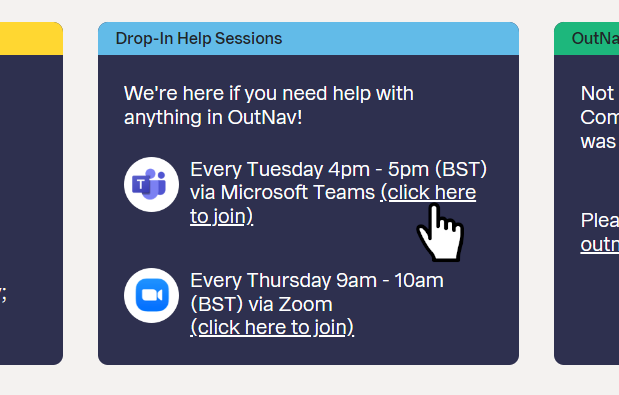 OutNav Community members should also receive a monthly e-newsletter with information on upcoming events, new features, community highlights and other topics of interest. If you think you should be receiving these newsletters but are not, please let us know at outnav@matter-of-focus.com
Of course, if you need support or help with OutNav or with our approach, you can get in touch any time via the built-in Help system. Just click the 'Help' button in the bottom right corner of any OutNav page, then click 'Contact Us'.