This article provides guidance on generating reports within OutNav. Reports can be generated and presented online or downloaded to a Word Document, where they can be edited.
Creating a Report
Click on the reporting tab. This will take you to the first step in the process, 'generate a report'
Choose whether you want to report on a specific pathway or include all pathways, click next
Select your report type from three options:
Findings report: show me the findings
This report will present the project background, outcome map, selected pathways and findings
Full report: show me everything
This will present the project background, outcome map, pathways, findings, sources and success criteria, risks and assumptions, evidence standards and comments
Custom report: let me choose 
this report allows you to choose from all content as shown below: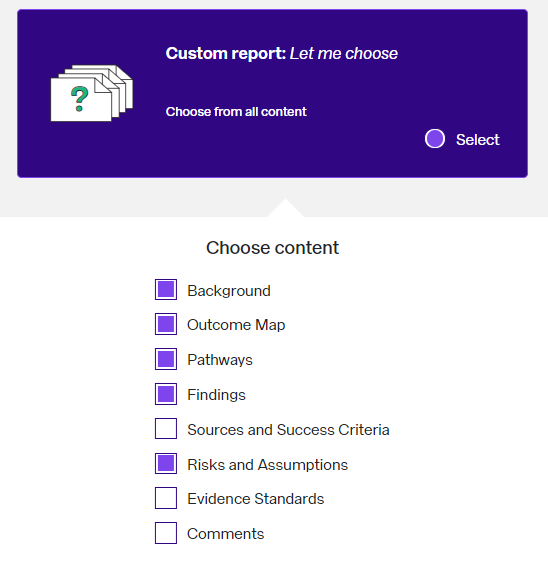 4. Click next and your project will be generated online
TIP! If you want to download our report to word or save the report to completed reports in the project landing, you can click on these icons within the navigation bar:
Online reports
This section will provide some hints and tips on using interactive features when presenting online reports:
The background presents the project details including; about this work, aims and objectives, context for delivery and methodological approach. Project admin can take a look at the project settings for support completing these sections.
The content page contains hyperlinks to each section of the report, which allow you to easily navigate to key areas:
Within the outcome map, you can hover over stepping stones in order to enlarge them: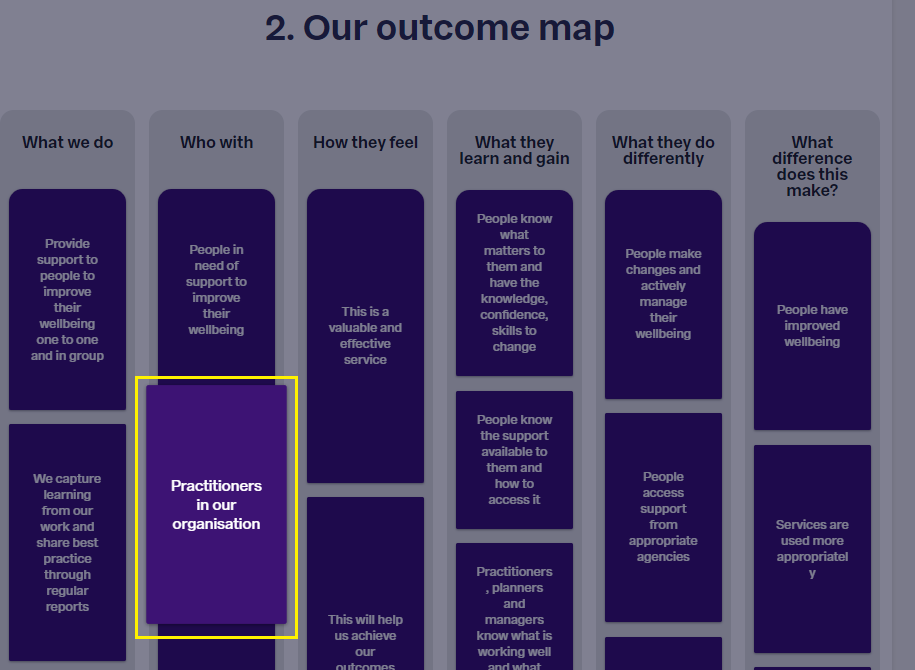 Pathway summaries include a progress and confidence key which can be expanded for more information about the evidence standards used to rate progress:
Within the detailed findings, images can be enlarged and scrolled through by clicking on them:
Once enlarged the image takes up the page and if there are multiple images then you can scroll through them use the arrows on either side of the image:
The background contains content about the project which can be edited within the project settings. It also contains the methodological approach which has been written by Matter of Focus but can be edited.
The last page allows you to either download the report onto Microsoft word or saves the report to completed reports on the project overview.