Once you have created your outcome map, it can be helpful to break down your outcome map into the different stories you want to tell which will make the process more manageable- we call these pathways.
For example, you can plot pathways from each final outcome, or you could follow activities through to outcomes, or focus on a specific group of people you work with.
We find it helpful to begin with one pathway and track progress against only that before moving on to others, in order to build

confidence and skills in using OutNav.

You want to make pathways as small as possible, but include everything that

NEEDS to be there to be successful with this aspect of the work. You can also

bring mutually reinforcing activities together in one pathway.

​

For example, at Matter of Focus, we tell the story of our online and offline support to

OutNav

users in one pathway.
Remember! Pathways are the level at which you do all of the analysis and track progress so it is worth taking some time to get them right. ​For more information on why the outcome map is broken down into pathways, read our insight post, 'Understanding change step by step: making use of maps and pathways'.
Adding a new pathway
First, make sure you are in the 'Plot Pathways' tab of the 'Mapping' section of OutNav.
Click the 'Add New Pathway' button.
Name the pathway.
Select the relevant stepping stones from each column in your outcome map. Make sure to select at least one stepping stone from each column.
Click 'create' to finish and set up the pathway.
You can edit or delete the pathway by clicking the icons that appear to the right of it on the Plot Pathways page. You can also collapse pathways to hide them using the up arrow icon in front of the pathway name.
Editing a pathway
Once a pathway has been plotted, as you begin to work with your data and evidence you may find that you need to edit it.
Subject to your access permissions, the Edit Pathway page allows you to add a stepping stone from the associated outcome map to your pathway or remove a stepping stone from the pathway.
You can access the Edit Pathway page by clicking on the Edit icon at the top right corner for each pathway on the Plot Pathways page.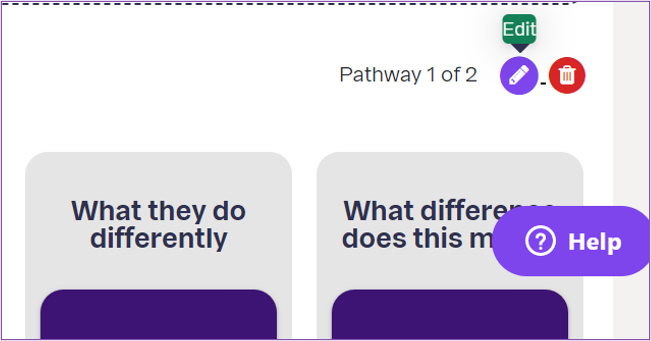 There is also an Edit Pathway link at the top right corner for each pathway on the Track Progress page:
The Edit Pathway page displays all stepping stones from the Outcome Map associated with the pathway:
Purple stepping stones have already been added to this pathway.
White stepping stones are NOT included in this pathway.
Simply click on a stepping stone to add or remove it and you will notice the colour change.
If you want to add or remove ALL the stepping stones in your outcome map to or from the current pathway, you can do so quickly using the "toggle all stones" buttons above the rightmost column of your map.
Click on the 'Update Pathway' button at the bottom right of the page to confirm your changes.
Note: If you want to edit the name of a stepping stone or add a completely new stepping stone, these changes must be made to the outcome map through the Mapping page. Once created, any new stepping stones can be brought into a pathway from the Edit Pathway page.
TIP! Pathways are ordered alphabetically. If there is a specific pathway you would like at the top of the page then number them, starting with the first as 1.
You can now move on to tracking your project.
Need some extra help?
Why not pop into one of our drop-in help sessions, running twice weekly on Tuesdays and Thursdays? A member of the Matter of Focus team will be on hand to answer questions and help with your evaluation in any way they can.
We also run regular community meetings where you can share with and learn from other members of the OutNav community.
Free access to all of these sessions is included with your OutNav subscription. More information and links can be found on your Organisation Home page.