What information is displayed on the Organisation Home?
The first thing you will see when you login to OutNav is your Organisation Home. From here you can get a quick overview of the projects within your organisation. If you cannot see the project you want to work on, you should contact one of your Organisation Administrators and ask them to update your permissions. Your Organisation Administrators are displayed at the top of the home page - hover over one of their icons to see their full name.
The panels below this provide links to various community events, including the OutNav drop-in help sessions, which run twice weekly and are open to all users who would like any sort of support or guidance with their OutNav project, and the latest community email with news and updates from the OutNav Community.
Below this, you will find your list of projects.
Organisation Administrators can reorder projects by dragging and dropping the handles to the left of the project name. They can be sorted into divisions, which can be added directly from the home page or from the Organisation Settings page.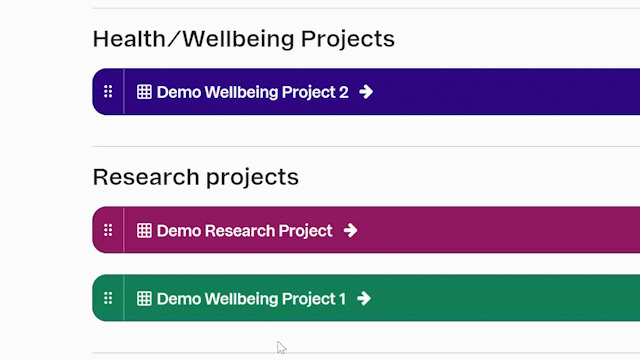 From this list, you can also see various information about each project such as what project type it is (only in specific cases such as parent/child maps), when it was last updated, and how many pathways it contains.
Starting work on a project
You can choose an existing project to get started with, by simply clicking on its name. Other options, such as generating reports and changing the colours of projects, can be found by clicking the "actions" button the right of the project name.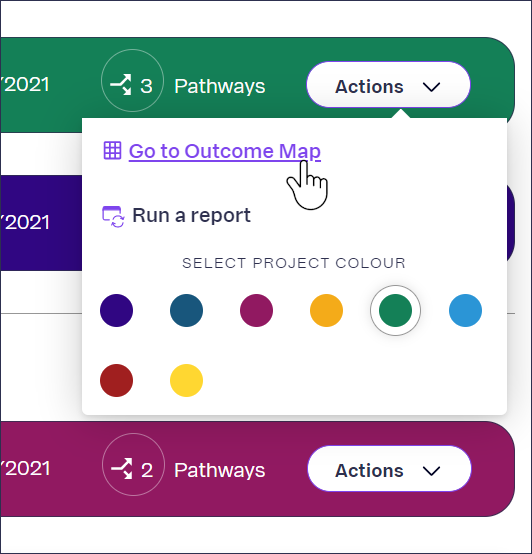 You can create a new project (only if you are an Organisation Administrator with a multi-project subscription) by clicking the "Add New Outcome Map" button at the bottom of the list of projects.
Organisation Settings
If you are an Organisation Administrator and wish to access more advanced settings at the organisation level, such as uploading an organisation logo or managing which users have access to your organisation, you can find a link to the Organisation Settings page near the top right of the home page. You can also access Organisation Settings from the dropdown menu, by clicking your organisation's name from the navigation bar in the top right of the screen.
For more on Organisation Settings, see:
Training Zone
At the bottom of the Organisation Home page you will find a link to the Training Zone, where you can view a series of how-to videos taking you through the process of using OutNav in easy steps.