The second stage of the OutNav approach is Tracking.
To track progress you first need to know what success will look like, how you will assess progress to date and what data you will need to evidence this.
A Data Audit is usually carried out after Outcome Mapping to help you think about:
The data sources you already have

Whether your existing data is relevant and useful in its current form

Where the data is held and how easy it is to access

Any gaps in your current data and h

ow you plan to fill these gaps

How to ensure your data is 'good enough' for your specific initiative and the context in which you work

How you will use your data to evidence the different steps and stepping stones in your pathway
Read the insight post 'how OutNav helps you streamline your data and evidence' to find out more about this process.
OutNav provides a central place to hold all your data and evidence. It also offers several ways to bring your data together to reflect on and describe your progress.
The Track Progress page, found in the Tracking section of OutNav, provides a high level overview of the progress you are making for each of your pathways.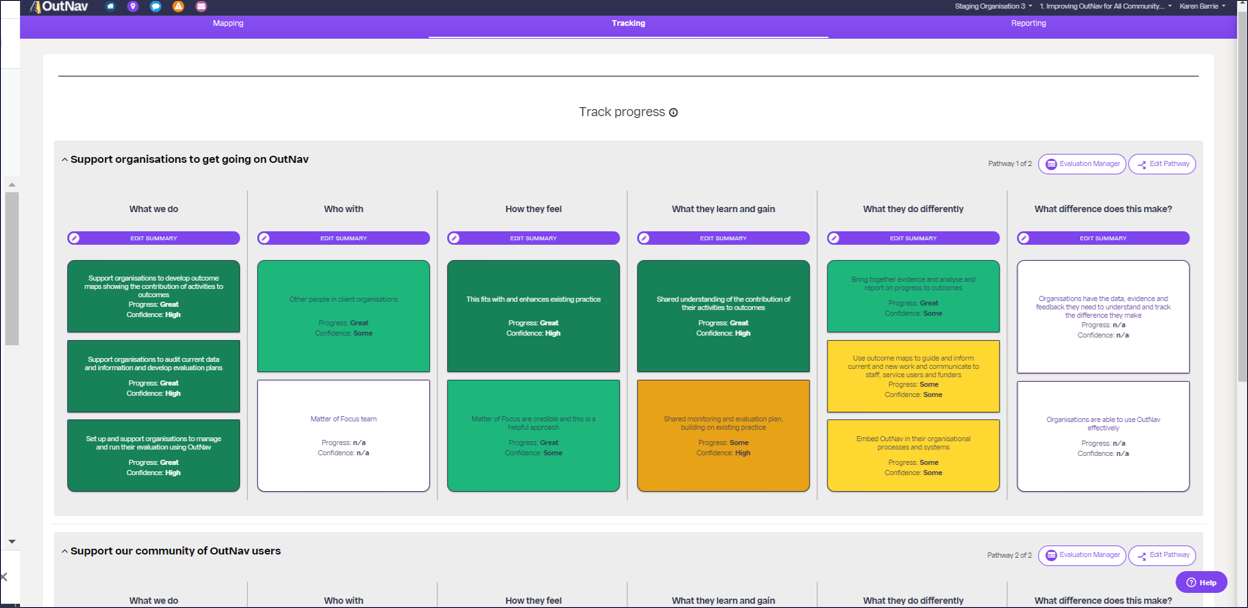 The colour coding system provides a visual representation of the progress made for each stepping stone in the pathway and your confidence in the evidence:
The progress rating influences the colour of the stepping stone and uses a simple traffic light system, with green reflecting good progress, orange reflecting some progress and red little or no progress.
The confidence rating is captured in the depth of colour. So, for example, a stepping stone where you are very confident in the evidence of good progress the colour would be dark green. If you had tentative evidence of good progress it would be light green.
Stepping stones appear white when first added to a pathway (as is the case for the two stepping stones in the final column in the image above) and you change the colours as you go through each iteration of your analysis.
To rate your progress and confidence you will need to bring together and consider the evidence that you have along with your evidence standards, and review any success criteria that you might have added.
Rating your progress and confidence is carried out at stepping stone level on the Update Analysis page. Click on the stepping stone you wish to work on to access the associated analysis. The Update Analysis page is also the place where you provide a written account of your progress for a particular stepping stone. You can also view, add or edit the sources, evidence and success criteria for a stepping stone from this page.
The Track Progress page includes a link to the Evaluation Manager at the top right of each pathway. This offers an alternative way of viewing, adding or updating sources, evidence and success criteria and allows you to consider all stepping stones in the pathway from a single page. It is a useful page to help you think through where the data and evidence that you have will be useful to evidence you progress and to spot any gaps in your current evidence.
The Track Progress page also provides the option to Add / Edit a Summary should you choose to record a written summary of your analysis at step (heading) level.
Finally, the Track Progress page includes the Edit Pathway link should you wish to add stepping stones from your Outcome Map to the pathway, or to remove a stepping stone from the pathway.
Need some extra help?
Why not pop into one of our drop-in help sessions, running twice weekly on Tuesdays and Thursdays? A member of the Matter of Focus team will be on hand to answer questions and help with your evaluation in any way they can.
We also run regular community meetings where you can share with and learn from other members of the OutNav community.
Free access to all of these sessions is included with your OutNav subscription. More information and links can be found on your Organisation Home page.